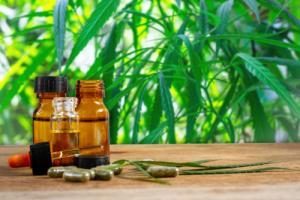 When asked about the most popular therapeutic at present, you would not have to think twice to answer it. It is CBD, the cannabinoid that is extracted from cannabis plants. A wide range of options is available in therapeutics, food supplements, and personal care products that contain CBD. How did it gain the popularity it has now? How does it work inside our bodies? Let us find out.
What Is CBD?
Cannabis is an age-old medicinal plant that contains several therapeutic phytochemicals. CBD is one of them. It is found in all cannabis plants although the concentrations see significant variations. For a CBD product to be considered legal in the US, it has to be derived from the hemp plant. CBD can be derived from marijuana, which also is a cannabis plant variety.
However, the percentage of THC, which is the other cannabinoid in the product will be high because marijuana is a THC rich plant. THC has intoxicating properties and may lead to substance abuse. This is reason enough for the US law selectively legalizing hemp-derived CBD alone. A legal CBD product in the US will contain less than 0.3% THC.
How Does CBD Work In Our Body?
The working of CBD in our body is explained based on its interaction with the endocannabinoid system. Although it is a complex biological system that was discovered back in the 1990s, much of its working mechanism is still unknown to experts. As of now, enough evidence is available for the influence of the endocannabinoid system on functions like mood, sleep, pain perception, and appetite. Three major components of the endocannabinoid system are endocannabinoids, receptors, and enzymes. Receptors of the endocannabinoid system are embedded in the cell membranes and concentrated throughout our bodies.
There are two major endocannabinoid receptors and these are:
CB1 receptors: They are mainly concentrated in the brain and central nervous system with its concentration in other body parts being minimal. They primarily deal with functions like pain, emotion, thought, coordination, appetite, and several other functions. THC binds to these receptors.
CB2 receptors: They are mostly found in the peripheral organs related to the immune system. The receptors primarily influence pain and inflammation responses in our bodies.
Once CBD enters our bodies, CBD works by interacting with these receptors, and rest is history. From all that is known from clinical studies and CBD reviews, it can be concluded that CBD works in our body and produces a therapeutic effect by influencing the endocannabinoid system indirectly.