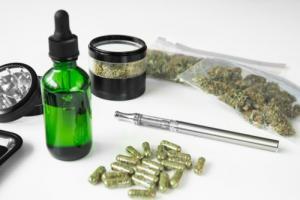 With different types of CBD products available in the market finding a good product can be difficult because not all products are created equal. Cannabidiol CBD is one of the most abundant cannabinoids found in the hemp plant and its rising popularity is due to the many scientifically proven medical benefits. The effectiveness of a cannabidiol product depends on the type of extract used, as it also determines the dosage. Hence, there are mainly three different types of CBD extracts and they are the following.
CBD Isolate
Isolates are the purest form of CBD and they are very potent because it is 99% pure cannabidiol. They are also known as concentrates and produced by the process of winterization where it removes all the cannabinoids, waxes, terpenes to create a highly pure extract. In winterization, the full hemp extract is mixed with 200 proof alcohol and frozen overnight resulting in a cloudy liquid that is filtered. Then, the alcohol is removed by warming the filtrate creating a concentrate.
CBD isolate is useful for those who have any kind of plant allergy or an allergic reaction to pure hemp extract. Also, it is suitable for those who require high CBD dosage, and for those who have to go drug screening regularly.
Full-Spectrum CBD
Full Spectrum CBD has all the cannabinoids from the hemp plant including THC, terpenes, essential oils and phenolics. The full spectrum of cannabinoids works in synergy to create what is known as the entourage effect. Besides, it was believed that CBD isolate was more effective, but that is not the case anymore due to the effect. Scientific studies show that subjects who were administered with full-spectrum CBD experienced higher and long-lasting relief because it has higher bioavailability due to the entourage effect. It is also a fact that full-spectrum CBD is more effective than isolate at higher doses.
Full-spectrum CBD is ideal for individuals who have severe conditions that cannot be cured using isolates and also for those who are required to consume THC with CBD.
Broad-Spectrum CBD
Broad-spectrum CBD is similar to full-spectrum CBD but without any amounts of THC. They can also deliver the benefits of the entourage effect without any kind risk from the psychotropic effect. Hence, it is suitable for those in places where THC is illegal, but want to enjoy the benefits of cannabidiol.
Broad-spectrum CBD is suitable for first-time users and for those who are sensitive to THC.
One type of CBD extract is not better than the other and the best one for you is dependent on your need and requirement.