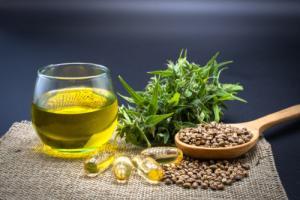 Ongoing studies on the effects of CBD on the sex life of people are showing positive results. Many people have reported that the pain most people experienced during intercourse has been reduced and it also helped to improve overall sexual pleasure. Many people have started using lubricants infused with CBD for alleviating the pain and several other discomforts during intercourse.
CBD is one of the active cannabinoid compounds in the hemp and marijuana plants. This cannabinoid has numerous therapeutic properties that are helpful in managing several health problems. Studies have found that CBD not only alleviates your health problems but also improves your overall health.
Since recent studies are showing that CBD could make sex life better, let's take a closer look at it.
Can CBD Improve Your Sex Life?
People have taken CBD for sex for several reasons. They took CBD for alleviating pain, increasing pleasure, setting the right mood, alleviate stress and anxiety, etc. Performance anxiety is very common in people.
Many experts are claiming that CBD lubricants could be very effective in alleviating most of the issues during sex. The sexual tissues and reproductive organs contain several cannabinoid receptors. CBD can interact with these cannabinoid receptors and helps in increasing the blood flow to the tissues. This will eventually help in increasing the sensitivity during sex.
Some CBD users have reported that the use of CBD-infused lubricants helped in relaxing their muscles and allows them to enjoy sex more. Some people are also using CBD just before sex for setting up the right mood.
We have so much evidence that points out CBD's ability to alleviate stress and anxiety. Many people often suffer from performance anxiety, which can hamper a positive sexual experience. The use of CBD can help in calming your mind and keep you focused.
Using CBD For Better Sex
The most important thing you need to remember when you decide to use CBD for making your sex life better is that the product you buy should be of higher quality. Do not go around and buy any CBD-infused lubricant that catches your eye. Read the label carefully and make sure that it is manufactured by a reputable CBD company.
Some experts recommend that you take CBD oil 30-60 minutes before you go to the bedroom. This will give time for CBD to kick in and alleviate your stress and anxiety. You should also ensure to start using CBD in a small dose if you are a beginner.