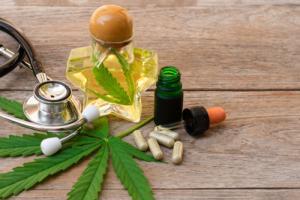 The cannabidiol (CBD) industry is in turmoil since fall 2020 after the launch of a THC free variety of the hemp plant, and its name is Cannabis America. It has been the dream of CBD health and wellness product manufacturers as well as hemp cultivators for many years. This is because a slight increase in the amount of THC, i.e. above 0.3% forces farmers to destroy their entire production. Furthermore, it was created by the genetic modification of the legal Cannabis Sativa whose THC content is limited to 0.3%. Read on to know more about the Cannabis America plant.
What Is Cannabis America?
Cannabis America is a Cannabis Sativa strain that is THC free. This was announced on 15th September 2020, by a Florida Based company Bazelet Oglesby, and they created it by altering the genome of the industrially cultivated hemp plant that is federally legal. This has resulted in the plant losing its ability to produce THC. The main advantage of this development is that it increased the potential use of cannabidiol (CBD) extracts for medical purposes. Also, it increases the chances of CBD becoming legal in US states where it is illegal.
What Are The New Opportunities For Cannabis America?
Apart from Cannabis America, all the known strains of the cannabis family of plants have at least some amounts of THC. This includes both wild strains and those that are cultivated for medical and research purposes. In the latter case, THC levels are kept to a minimum using hybridization and stabilization methods. This requires extra investment, and as a result, their price will be higher. With cannabis varieties like Cannabis America, the production cost will be reduced, and this makes cannabidiol (CBD) health and wellness products more accessible to people.
What Are The Advantages Of THC Free Variety Of Hemp?
The two main advantages of using THC free hemp for making CBD products are the following:
THC free means no psychotropic effects and side effects.
CBD health and wellness products become cheaper, and hence they are more accessible to people.
Apart from these two main advantages, people can use full-spectrum organic hemp oil that has the added advantage of the entourage effect. It is more effective for mitigating the symptoms of ailments when compared to CBD isolate. However, there are doubts regarding the use of genetic manipulation for creating such a product, as many people oppose the use of GM products.
We hope that the details shared above clarified your doubts about THC free hemp strain Cannabis America.