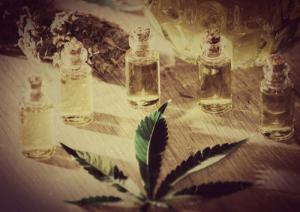 CBD is a lot of things and the list is only expanding for the better. With the legalisation of CBD, many of those in the medical industry, specifically the ophthalmologist have started to take interest in the connection between CBD and eye health. We look into some of the scientific studies that back it up. Read on…
CBD
CBD is the chemical compound that is found in cannabis and the recently legalised hemp plant (Farm Act, 2018). It is a non-psychoactive substance meaning that it cannot make you 'high' and its sheer versatility enable it to be infused into creams, lotion, edibles and many more. The research backing up the CBD health benefits point, out to the rather potent anti-inflammatory and pain relieving properties.
What About For The Eyes? Studies And More
Even if the scientific evidence doesn't back it, marijuana has had a long time association with the eyes. But there is light at the end of the tunnel for CBD. A 2016 Canadian study of the two primary receptors, CB1 and CB2 in monkeys have concluded that CBD does manipulate and interact with the endocannabinoid system which helps in restoring normal vision and at the same time help protect the retina. It doesn't stop there.
A clinical trial held in the U.K showed the cannabinoid's ability to regulate arterial tone in the blood vessels in the central nervous system. This has helped CBD in reversing and mitigating the effects of retina ischemia and retinopathy in general. CBD helps in reducing the extent of degeneration caused by the early release of lactate dehydrogenase induced by retina ischemia. The antioxidant properties of CBD have been studied to prevent neuronal death by scavenging toxic reactive oxygen produced by the overstimulation of receptors for glutamic acid.
Due to the neuroprotective capabilities of CBD, CBD use is able to mitigate the implications for retinal diseases like retinitis pigmentosa.
All of this without you being neither 'hooked on' nor addicted to it. The light that has shone on CBD is astonishingly bright and we are very much in the midst of truly unlocking the potential of this rather humble herbal medication.  People have started to look in the way of CBD, as the science and research speaking volumes of its benefits are piling over one another.
If there is any herbal, natural medication that can change the way you see herbal medications, then CBD is your answer.