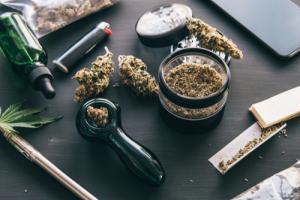 Smoking weed was a common practice among people for decades and a lot of people still use it for different purposes. Some people use it for treating certain health conditions, whereas, some others utilize it for recreational purposes. Although smoking weed provides several health benefits, it can also have adverse effects. Weed can create a high in people and might lead to addiction.
However, now you can enjoy the health benefits provided by weed without worrying about the adverse effects created by it. This is where CBD joints can be beneficial for you. Unlike weed joints that are created from the cannabis plant, CBD joints are produced from hemp plants, which are free of intoxicating effects. Read along to understand which product best suits your preferences.
Smoking Weed
Smoking weed joint can be beneficial for treating different health conditions including pain, inflammation, nausea, and vomiting, etc. It can also be beneficial for inducing appetite in people thereby allowing them to eat more and improve strength.
However, weed joint is commonly made from the cannabis plant that has high concentrations of THC. This is a cannabinoid that creates the psychoactive effects you experience when smoking weed. Therefore, weed joints may not be always a good solution for you. Nonetheless, CBD joints can aid in avoiding such problems associated with weed joints. Additionally, smoking CBD can provide you with an array of health benefits.
Smoking CBD
Cannabidiol (CBD) has been legalized by the US government which increased the availability of this compound. CBD is another active cannabinoid present in the cannabis plant. Unlike the psychoactive cannabinoid named THC, CBD doesn't cause the high. Therefore, CBD joints create a safe alternative for weed joints. CBD joints are produced from the hemp plant, which is a special variety of cannabis that has low levels of THC. Hence, it is doesn't have any intoxicating effects.
The hemp plant provides most of the health benefits provided by the cannabis plant without resulting in intoxicating effects. Products derived from the hemp plant won't create addiction too. Additionally, cannabidiol can provide a lot of health benefits. It can be beneficial for you to treat pain, inflammation, hypertension, seizures, vomiting, nausea, anxiety, depression, PTSD, and stress, etc.
So CBD joints have become a great aid for people to treat different health conditions. This has become a natural solution for a wide variety of illnesses. With the development of CBD joints, it became possible for users to get the benefits of cannabis without experiencing its intoxicating effects.